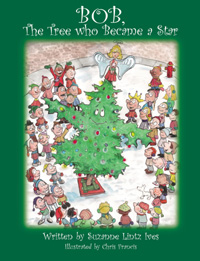 This delightful fully-illustrated children's book tells the story in verse of a tree who is named "Bob" when he goes to town to become a decorated Christmas tree. After living his treehood by being kind and bringing love to those around him, Bob ultimately becomes a star in the heavens finding eternal life.
"Suddenly, all the beings in the forest bold looked up to the sky: Behold! Behold!
Bob starred in the sky ever so bright. He was winking and blinking and loving the night.
Now, ever after, when you look to the sky, you'll see Bob shining, a twinkle in his eye.
Bob blinks down a message for each one to mind: "You'll always be remembered if you try to be kind."
The story in rhyme creates an easy-to-read and easy-to-remember moral:
"Bob taught us belonging and being kind is the very first thing we should keep on our minds.
If you want to be a star, it's easy to do. Just give love to others and keep some for you.
It's that way with loving and being kind. Love will prosper and grow, and kindness you'll find."